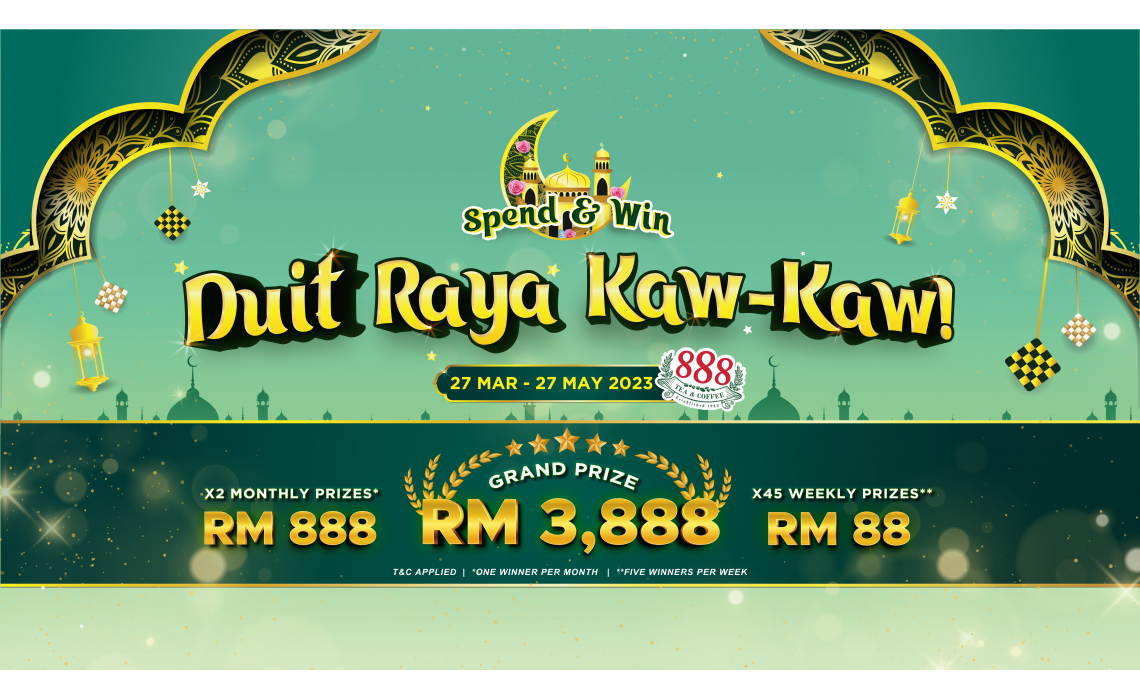 888 Spend & Win Contest "Duit Raya Kaw-Kaw!"
Posted By: Admin Times Read: 1967 Comments: 0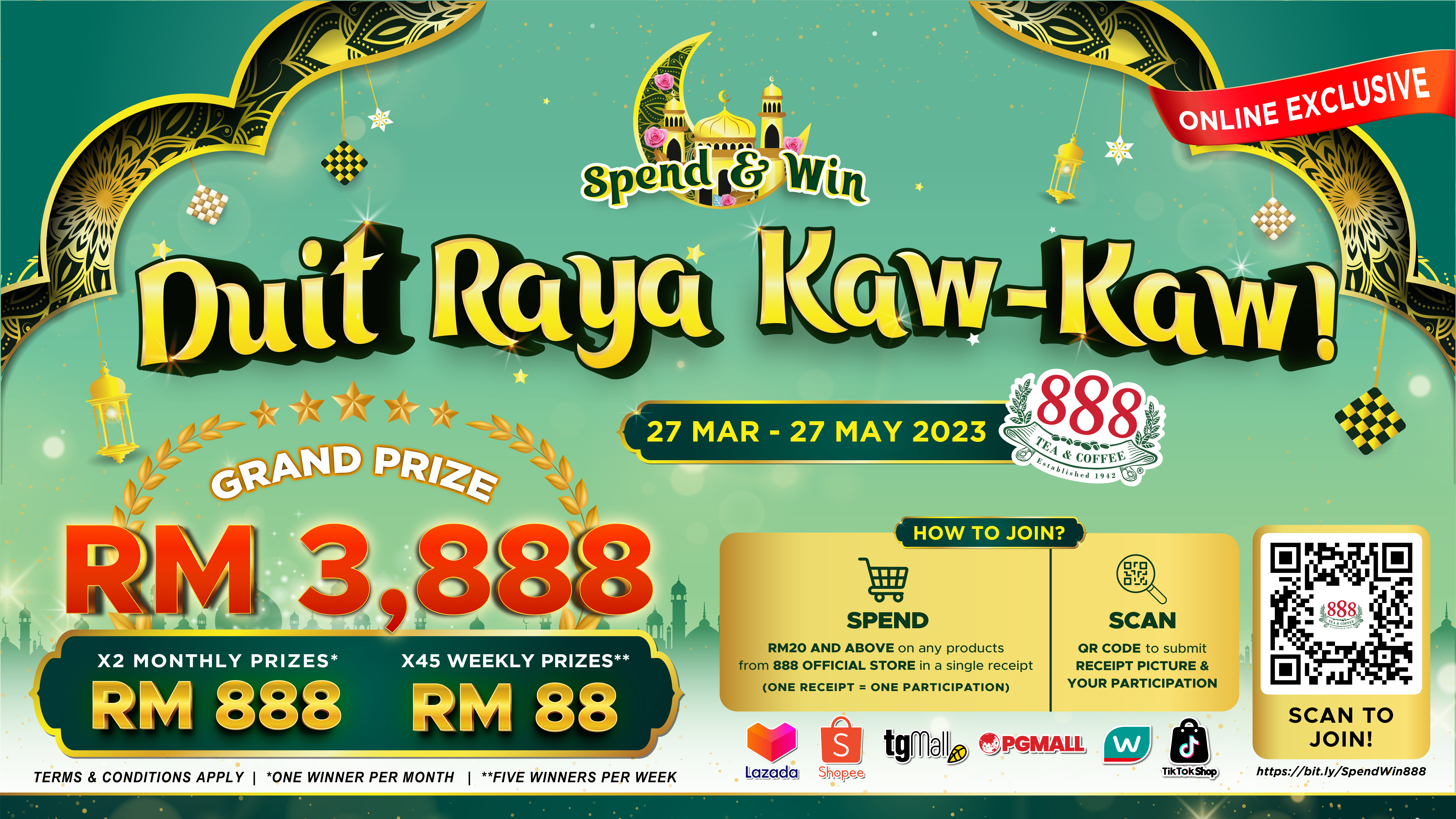 TERMS & CONDITIONS
These terms and conditions shall apply to the 888 SPEND & WIN contest organized by Syarikat Thong Guan Trading Sdn Bhd (Company Registration No: 29442-K). Participants agree and acknowledge that they have read these Terms and that entry into the Contest is deemed to be acceptance of these Terms.
ORGANISER & QUALIFICATIONS
1. All participants who are Malaysian citizens and who are at least eighteen (18) years of age at the beginning of the Contest Period are eligible to take part in the Contest as participants.
2. The Organiser may require the Participants to present valid identification for verification of the Participants' identity. Individuals listed below are NOT eligible to participate in this Contest:
3. Employees of the Organiser (including its affiliates, subsidiaries, or related entities) and their immediate family members (child, parents, siblings, and spouses; and/or Representatives and/or employees of the advertising agencies and/or any other third-party contractors or agencies engaged by the Organiser in connection with this Contest (including their associated and related companies), and their immediate family members (child, parents, siblings, and spouses).
4. The Organiser may exclude any Participant from participating in this Contest without giving prior notice and/or reasons, at its absolute discretion.
CONTEST PERIOD & ENTRY CRITERIA
5. The Contest shall commence on 27 March 2023 0:00:00 hours and end on 27 May 2023 at 23:59:59 hours (Malaysian Time). Notwithstanding the Contest Period, Participants may submit their Contest entry(ies) together with the relevant Receipts for purchases made during the Contest Period to the Organiser via QR Code scan (filling in the Google Form & submitting receipt picture). Contest entries with Receipts dated outside the Contest Period will be immediately disqualified. No correspondence will be entertained.
6. Only Receipts worth RM20 and above (in a single Receipt) shall be valid for the purposes of this Contest and must be submitted in accordance with these Terms and within the Contest Period. Participants may send multiple entries.
* ONE RECEIPT = ONE PARTICIPATION
PARTICIPATION TERMS
7. Participants shall provide proof of purchase which is the official document issued to the Participants for the purchase of products from the Organiser's flagship store or online store as listed below including but not limited to a screenshot of the order details with a delivered status or invoice (receipt). Participants must purchase ANY products from 888 Official Stores or Organic Care2U (for Watsons Online only) worth RM20 and above, in a single receipt, to be eligible to participate in this Contest.
| | | |
| --- | --- | --- |
| Flagship/Online stores | Links | Participating Products |
| Shopee | | All products |
| Lazada | | All products |
| TG Mall | | All products |
| PG Mall | | All products |
| Tik Tok | | All products |
| Watsons | | Organic Care2U |
8. The Receipt must clearly indicate the store name with or without logo, order ID, date of purchase, the products purchased, and must be dated within the Contest Period.
9. Participants shall submit their entries via Google Form (after scanning the QR code)
Participation Form
HOW TO PARTICIPATE:
10. Each entry must be complete and accurate and must be accompanied with a photo of the Receipt. The original Receipt shall be retained by the Participant and produced to the Organiser if requested.
11. Submit your entry and a photo of the Receipt via Google Form (after scanning the QR code). Participants will need to fill in other details required in the form.
12. Participants may submit more than ONE (1) entry. However, every Receipt will be eligible for ONE (1) entry and can only be used once. The Participant's entries will be disqualified if the same Receipt is used more than once in multiple entries.
13. Each Participant is only eligible to win a maximum of ONE (1) Prize during the Contest Period.The Participants agree that all prizes are non-transferable, non-exchangeable, may not be exchanged.
14. The Organiser shall be entitled to replace the Prizes with other prizes of the same value at its sole and absolute discretion. To the extent permitted by law, the Organiser, its agencies, affiliates, and sponsors and their representatives shall not be liable for any misuse of the Prizes, or to any claims, liabilities, losses or damages in connection with this Contest.

CONTEST PRIZES & REDEMPTION
15. There are a total of 48 cash prizes to be won, with the breakdown as follows:
| | | |
| --- | --- | --- |
| CATEGORY | PRIZE | WINNER |
| Grand Prize | RM 3888 | 1 winner |
| Monthly Prize | RM 888 | 2 winners |
| Weekly Prize | RM 88 | 45 winners |
* Subject to terms & conditions.


16. The cash prize will be transferred directly into the participants bank account.
WINNER ANNOUNCEMENT
17. FIRST Monthly Prize announcement: 15 May 2023
18. Weekly Prizes announcement: Every Thursday starting after 27 Mar 2023
Note: The Grand Prize Winner, Second month winner & Final week winner will be announced on 27 June 2023 via the Organiser's official social media platforms as per following:
| | |
| --- | --- |
| Social Media Platforms | Links |
| Official 888 & Tea Facebook | |
| Official 888 & Tea Instagram | @888teacoffee |
| Official 888 & Tea Tik Tok | |
AND
| | |
| --- | --- |
| Social Media Platforms | Links |
| Official TG Mall Facebook | |
| Official TG Mall Instagram | @tgmall.my |
19. Each Winner will be contacted by the Organiser by using the phone number provided to the Organiser shall they did not claim the prize within 14 days after the announcement date. Any Prizes which have not been collected within the 14 days period shall be forfeited. The Organizer also reserves the right to replace the Winners of the Prizes at its discretion.
PRIVACY NOTICE
20. By participating in the contest, the participant is taken to have accepted and agreed to be bound by these Terms and any other instructions, specific terms and conditions that the Organiser may issue from time to time.
21. The Organiser shall have the right to suspend, withdraw or cancel the Contest, and to amend these Terms (including Contest Period which may be extended at the Organiser's sole discretion) at any time in its sole and absolute discretion without prior notice;
22. The Organiser's decisions on all matters relating to the Contest shall be final, and the Organiser will not entertain any correspondence or appeals.
23. Participants who have been found to have engaged in misconduct, including cheating, fraud and/or manipulation shall be disqualified from the Contest and will not be eligible to win any Prize.
24. The Organiser shall not be liable for any injuries, losses or damages arising from or in connection with the Contest, including without limitation, breakdown or malfunction of related equipment, or any error in the outcome of the automatic random selection process.
MISCELLANEOUS
25. In addition to these Terms, any other order or rules of the Contest as stated at the website https://888teacoffee.com.my/shall also bind all Participants.
26. In the event that there is a dispute concerning the conduct of the Contest or claiming a Prize, the Organiser will resolve the dispute in direct consultation with the Participant. If the dispute cannot be resolved the Organiser's decision shall be final. The Organiser accepts no responsibility or liability for any delay or failure by the third party to deliver the cash prize, any delay or failure relating to the Prize itself.
27. Participants agree that their entry is their original work and does not infringe the rights of third parties. Participants are responsible for all entries they submit on entry. The Organiser reserves the right to remove, request removal or decline to publish any entry or portion of an entry for any reason whatsoever, including if in breach of these Terms. Organiser also have the right to use the data collected for future promotions & events.
28. To the extent permitted by law, if for any reason any aspect of this Contest is not capable of running as planned, including by reason of computer virus, communications network failure, bugs, tampering, unauthorised intervention, fraud, technical failure, or any cause beyond the control of the Organiser, the Organiser may in its sole discretion cancel, terminate, modify, or suspend the Contest and invalidate any affected entries, or suspend or modify a Prize.
29. The Organiser reserves the right, at any time, to validate and check the authenticity of entries and Participant's details (including a Participant's identity, age, and place of residence). In the event that a winner cannot provide suitable proof as required by the Organiser to validate their entry, the winner will forfeit the Prize in whole and no substitute will be offered. Incomplete, indecipherable, inaudible, incorrect and illegible entries, as applicable, will at the Organiser's discretion be deemed invalid and not eligible to win.
30. Entries containing offensive or defamatory comments, or which breach any law or infringe any third-party rights, including intellectual property rights, are not eligible to win. The use of any automated entry software or any other mechanical or electronic means that allows an individual to automatically enter repeatedly is prohibited and may render all entries submitted by that individual invalid.
31. The Organiser reserves the right to disqualify entries in the event of non-compliance with these Terms. The Participant will participate in and co-operate as required with all reasonable marketing and editorial activities relating to the Contest, including (but not limited to) being recorded, photographed, filmed or interviewed.